CALCO UK ACCEPTED BY NOMINET AS PRIVACY PROVIDER
We are pleased to anounce that Calco are now providing a privacy protection feature on all UK domain names.
The move comes after we applied to and were accepted by NOMINET, the UK's Domain Name Agency which issues all org.uk, co.uk and .uk domains.
This means that if anyone who knows your domain name tries to look up your address or name on WHOIS they will be rebuffed with our generic (Calco) details. The only people who are aware of your real contact details are Nominet.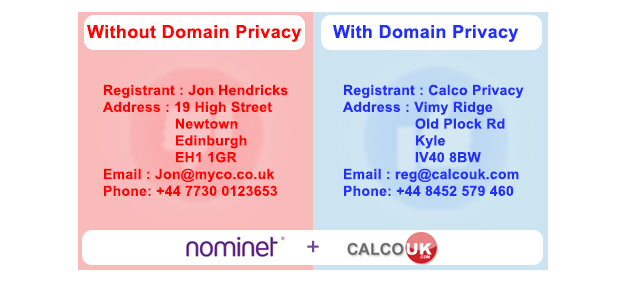 You should note that "opt out" only hides the registrant's address, not your name. Calco Privacy masks ALL Registrant details.
This will certainly help reduce spam and phishing and offer increased domain security for all our UK DOMAIN customers.
Anyone wishing privacy on existing UK domains should call 01599 534 964 or email sales@calcouk.com
Questions :
Q. Can I get privacy on any domain?
A. No, only the UK domains are eligible e.g. domains at the end in .uk so this could be calco.co.uk or calco.uk or calco.org.uk
Q. How much does it cost?
A. The service is free to Calco customers but there may be a one-off set up fee if your TAG is not set to CALCO.
Q. Why is you privacy free when other companies are charging 5.99 +VAT per annum per domain?
A. Calco are full voting members of Nominet, as such we have access to this and other advanced registrant features.