Its unlikely you will know if your email is undelivered, even more unlikely is that you would know when it is flagged as SPAM and why.
The problem is exacerbated by the fact that the intended recipient will unlikely be aware of a mail that has not reached them.
The SOLUTION then is to make sure your email is not flagged as spam by following some basic rules.
First of all make sure that you ask your new clients / friends to add YOUR email to THEIR whitelist or friends list. DO this in a telephone conversation or at least ADD a SIGNATURE file to the end of your emails to this effect. Similarly add anyone important from whom you expect email, to YOUR friends list or whitelist.
FIGURE 1 : Typical email showing the regions of a typical email referred to by Spam Assassin and similar spam filter software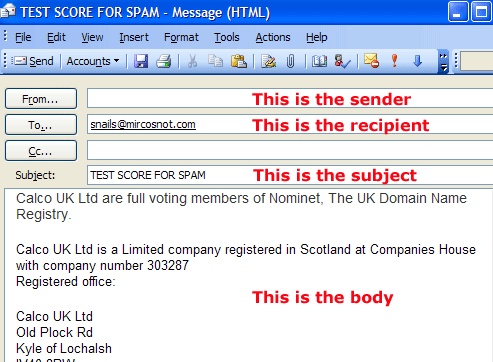 To determine whether an e-mail is spam most spam filters examine a number of different rules: such as
content, length, percentage of text, use of images, number of recipients, headers, sender.

They will then formulate a spam score for every e-mail which passes through the server.
The THRESHOLD level is defined by the mail server configuration. The default setting is a score of 5
For a complete list of spam tests click here >> The Apache SpamAssassin Project
Here are some common problems:
THE MOST COMMON 3 ARE:-

3 or more CAPITALIZED words in the Subject line (as in the example above) - Its also considered shouting and arrogant. Think of it like this... Everyone else is speaking normally at a meeting, but one person is SHOUTING EVERY WORD because THEY want THEIR message to be heard above everyone else!
No subject text at all
Email contains just one huge image and a few words
Subject starts with Hello or Free or GUARANTEED etc
Subject line starts with Buy or Buying
Email has more than 70 percent blank lines
Weird repeated double-quotation marks
Body mentions Viagra, no prescription, online Pharmacy etc
Attempts to disguise a word(s)
From field contains an emprty name (as in the example above)
Reply to is empty
Too many similar recipients in the To field
Subject (or other fiields) contains G.a.p.p.y-T.e.x.t with lots of spaces or underscores etc
Subject starts with dollar sign or amount
Address contains "free"
Email contains an executable EXE BAT PIF etc (or DAT file Email sent from Apple Mac to PC issue)
Message is a saved web page
Font size of message is huge
Font colour is the same as the background (invisible text)
Body Text: Offers a full refund , Dear Friend, Contains 'Dear (something)' , Talks about lots of money, Offers a alert about a stock, Information on growing body parts or impotence, Information on mortgages, Money back guarantee, There is no obligation, Risk free. As seen on national TV! Off Shore Scams, Why Pay More? etc etc
Porn of any kind - specific kinds of porn is a higher score.
Bulk mail : this is a whole new subject for discussion in itself.
Message would have been caught by accessdb or a Microsoft Executable.
The above is an ever growing list and as spam senders become more wily the rules are likely to become more stringent.