Welcome to support - Why do my emails go missing
ALL CAPS SPAM is becoming so common that we thought it would be a good idea to highlight what happens to an email that has all caps in the Subject of the email (see fig. 1 below)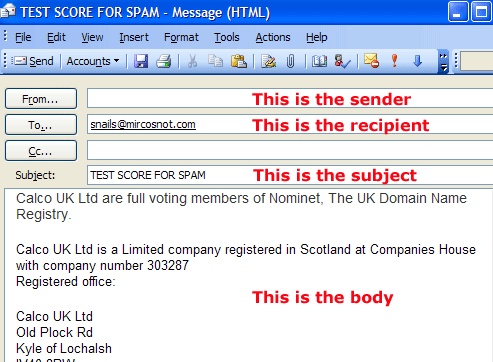 Figure 1 - The primary fields of an email form.
Firstly nearly all email now is SCORED as spam or not spam. A typical score for SPAM is 5 or more. The more spammy aspects in your email; the higher your score.
One of the worst offenders or at least most common is ALL BLOCK CAPITALS IN THE SUBJECT.
Whatever the reason, 3 or more CAPITALIZED words in the Subject of an email will attract a high spam score.
Here is an email to Calco UK with an offer to attend a conference - as you will see the email only scraped in under the spam filter.
====begin email===
WEB DESIGN AND DEVELOPMENT COMPANY -- REQUEST FOR MEETING @ INTERNET WORLD 2011,LONDON
Sudipto Das <sales@citytechcorp.com>
Dear Sir/Madam,
We are pleased to welcome you at the InternetWorld 2011 at Earls Court, London. As you may be aware that this event is Europe's leading event for Digital Marketing and Online Business.
etc ... ===end email===
and now his or her spam score :-

X-Spam-Checker-Version: SpamAssassin 3.2.5 (2008-06-10)
X-Spam-Level: **** (4 stars)
X-Spam-Status: No, score=4.1 required=5.0 tests=
DEAR_SOMETHING,
SUBJ_ALL_CAPS
Spam Assassin is the name of the programme on the server that checks for spam - My own preference is to set it at 5 which is moderate. However this is ONLY because I NEED to receive messages from clients who use spammy methods in their emails. I would rather set it to HIGH so I dont get any spam.
Many people however DONT set their spam to moderate, preferring to gain more protection and additionally, some internet providers dont actually allow access to the spam filter and so you wont actually know if you are loosing emails through spam.
In the above example the creator of the email also used Dear Sir/Madam which added to the spam score - not fair I agree, but that is what spam filters do to emails. This example highlights the need NOT to use caps as UNKNOWN elements such as Dear Sir /Madam or a large image in the email, may already have your score almost raised to an spammy level and adding caps finally tips the spam score over the threshold.
The moral of this tale is DONT USE CAPS IN THE SUBJECT of your emails.
Finally ... the sting in the tail of this tale is that if you are found to be spammy, over and over again, you may get BLACKLISTED which means your emails willo be unlikely to be allowed ANYWHERE outside of your own computer; this would be especially true if you are a church or club secretary sending loads of emails at one time.
Click here if you are worried about already being blacklisted
You may also find useful our article on How Email Goes Missing via spam filters or blacklists. Spam Filter Rules also contains a list of rules you would be wise to follow assuming you do actually WANT your emails to get to where you intended them to go!