Simple Invoices : web based invoicing
Your accounts available anywhere ...
Free web based invoicing developed by the on-line community, for the on-line community. Forget old fashioned PC based applications and move your accounting to the cloud. No more multiple licensing or annual costs; if you have your own hosting then this package is free.
Send out Invoices as PDFs
Works with PayPal** for payments, so the recipient of an invoice can just click and pay online.
The installation is by 1-click, however you will need to customise the application with your business details.
The forum is here
The website is here
Demonstration here
**PayPal has its own very good invoicing system with stock control if you prefer to remain within the PayPal protected zone. here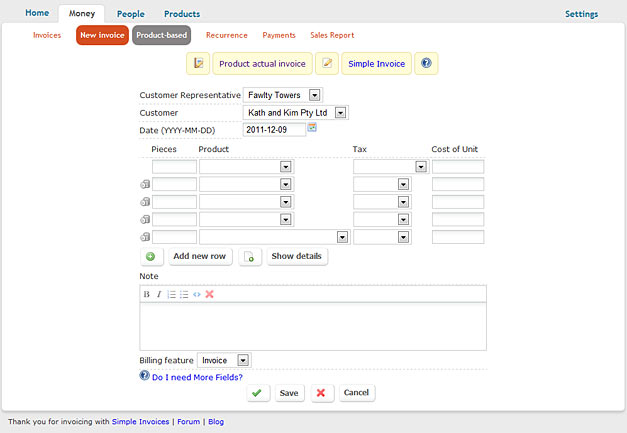 Figure 1 - The New Invoice screen
ADDITIONS THIS MONTH
Piwik Analytics
Zen Photo
Lime Survey
OpenCart
Status.Net
Our existing 1-click-installs have just been upgraded :-
- Drupal V6.22
- Drupal 7 V7.4
- WordPress V3.2.1
- Website Search V1.6
- Crafty Syntax Live V3.1.2
- CMS Made Simple V1.9.4.2
- Elgg V1.7.10
- Geeklog Weblog V1.8.0
- MediaWiki V1.17.0
- phpBB3 Forum V3.0.9
- AWStats Statistics V7.0
- Roundcube Webmail V0.5.3
- SugarCRM V6.2.1
- Typo3 V4.5.3
- Tracewatch V0.353