SSL on our Shared Secure Server
Save all the hassle of buying and installing an SSL Certificate
We provide the option to switch on SSL (for your shopping carts etc) to your domain via the control panel.
Simply open your control panel and click the first icon in the e-commerce section called SECURE SERVER
THREE things to note:-
1) The secured address takes the form https://web151.secure-secure.co.uk/mydomain.co.uk/ where "mydomain.co.uk" would be the name of your domain and "web151" is the physical web server on which your domain is hosted. Dont worry, the1-click takes care of this - just copy down the secure address
2) Secure addresses take the form https:// (and not just http://) The extra "s" tells the server to use the secure channel.
3) If you are referencing files and images,its easier to use relative paths. For example reference an image thus images/test.jpg and NOT http://www.mywebsite.co.uk/images/test.jpg
If you would like an exclusive SSL all to yourself -call us and we will install it for you and provide the correct URLs and Paths etc for your e-commerce solution/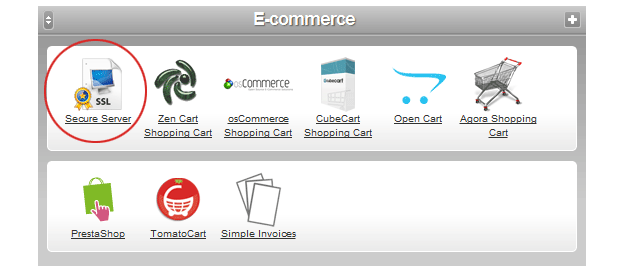 Figure 1 - Add SSL to your hosting
ADDITIONS THIS MONTH
Piwik Analytics
Zen Photo
Lime Survey
OpenCart
Status.Net
Our existing 1-click-installs have just been upgraded :-
- Drupal V6.22
- Drupal 7 V7.4
- WordPress V3.2.1
- Website Search V1.6
- Crafty Syntax Live V3.1.2
- CMS Made Simple V1.9.4.2
- Elgg V1.7.10
- Geeklog Weblog V1.8.0
- MediaWiki V1.17.0
- phpBB3 Forum V3.0.9
- AWStats Statistics V7.0
- Roundcube Webmail V0.5.3
- SugarCRM V6.2.1
- Typo3 V4.5.3
- Tracewatch V0.353