Guestbook with image verification
Let people leave comments about your business or website ... securely!
Version 2.45 of the well known Dagon Guestbook; free 1-click software from Calco UK
No database is required for this simple but powerful little script. Each comment is held in a simple text file and parsed for display by the programme. The actual display of comments is auto-resized for the browser window, right down to smartphone window size.
It combines ease of use with tight security in the form of image verification. This means that all but manual spam will be a thing of the past.
Simply click the icon in your control panel (Guestbook) and the programme will install.
The help file is here
NOTES: Once installed ALL features are switched on. You might want to go to your FILE EDITOR and edit the file:- config.php
Calco do not use Guestbook Scripts on their own website as modern Link Making Programmes access these scripts to "drop links" on random sites in the hope this will improve their SEO.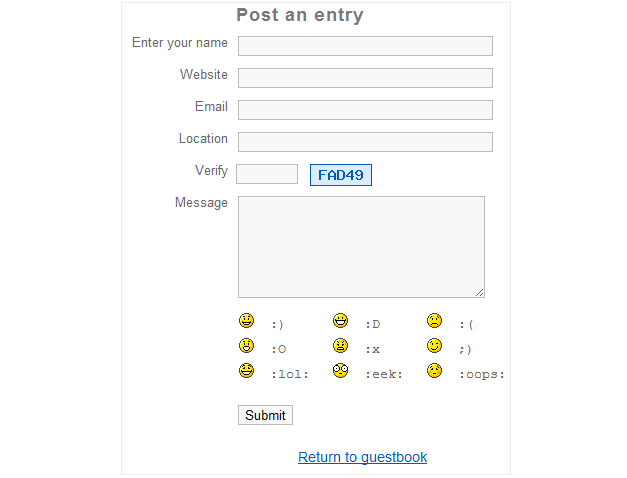 Figure 1 - Guestbook Screenshot
ADDITIONS THIS MONTH
Piwik Analytics
Zen Photo
Lime Survey
OpenCart
Status.Net
Our existing 1-click-installs have just been upgraded :-
- Drupal V6.22
- Drupal 7 V7.4
- WordPress V3.2.1
- Website Search V1.6
- Crafty Syntax Live V3.1.2
- CMS Made Simple V1.9.4.2
- Elgg V1.7.10
- Geeklog Weblog V1.8.0
- MediaWiki V1.17.0
- phpBB3 Forum V3.0.9
- AWStats Statistics V7.0
- Roundcube Webmail V0.5.3
- SugarCRM V6.2.1
- Typo3 V4.5.3
- Tracewatch V0.353