Use Geeklog Blog as a Blog or Content Management System
Easy to use but powerful blogging software. You can change themes very easily. Below (Figure 1) simply shows a blue theme, however there are at least 20 others on the demo website here for you to try before installing the software yourself.
The latest version of this popular Blogging software software uses jquery which makes the package really stable, especially when using third party plug-ins.
Geeklog also provides as standard : support for comments, trackbacks, multiple syndication formats, spam protection
Simply click the icon in your control panel (Geeklog Weblog) and the programme will install.
Home page is here
The help file is here
The demo site is here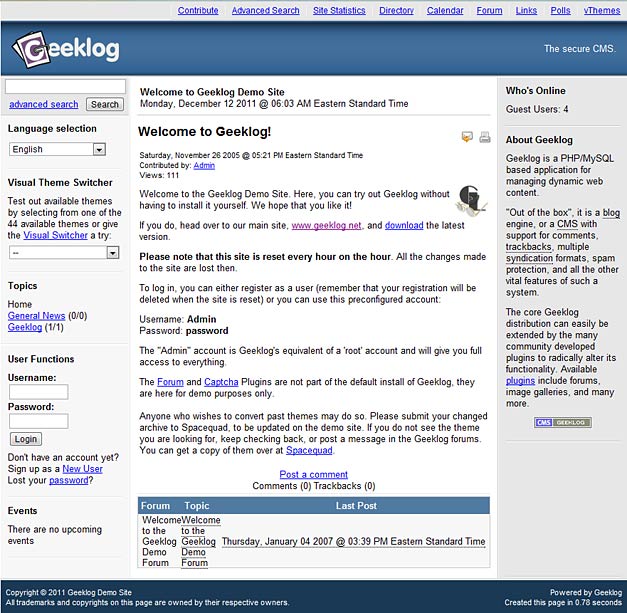 Figure 1 - Geeklog Blog Screenshot. NOTE FORUM and CAPTCHA are not part of the default install. They are shown to demonstrate the tight integration.
ADDITIONS THIS MONTH
Piwik Analytics
Zen Photo
Lime Survey
OpenCart
Status.Net
Our existing 1-click-installs have just been upgraded :-
- Drupal V6.22
- Drupal 7 V7.4
- WordPress V3.2.1
- Website Search V1.6
- Crafty Syntax Live V3.1.2
- CMS Made Simple V1.9.4.2
- Elgg V1.7.10
- Geeklog Weblog V1.8.0
- MediaWiki V1.17.0
- phpBB3 Forum V3.0.9
- AWStats Statistics V7.0
- Roundcube Webmail V0.5.3
- SugarCRM V6.2.1
- Typo3 V4.5.3
- Tracewatch V0.353