Open Source E-Commerce
AgoraCart is a completely FREE shopping cart. The system is simple to install and use, however its relatively simple customisation through a series of clearly labelled templates makes it an ideal choice if you want your shoppers to have a more individual shopping experience, whilst retaining the familiar Browse Brochure - Cart - Checkout way of shopping online.
Shipping and Tax are highly configurable, makign AgoraCart suitable for UK users.
Images are re-sized on the fly by our server so that you need only upload one product shot if you wish; the thumbnail and mid-sized shots are automatically created.
The AgoraCart Website is here
Demonstration here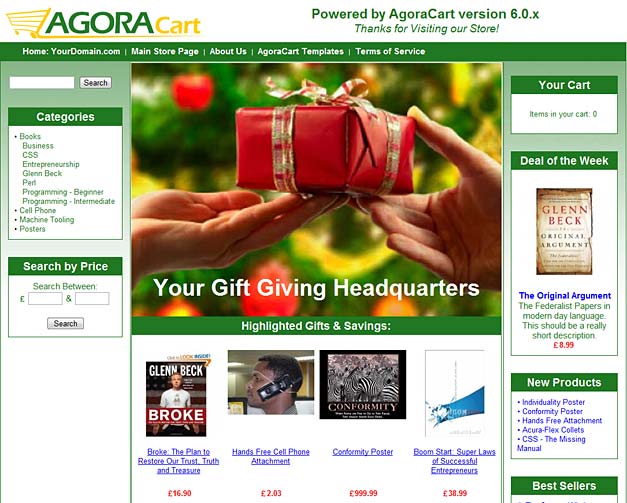 Above - The basic AgoraCart layout looks like this! Note that you would replace all the AgoraCart branding with your own logos and tag-line.
ADDITIONS THIS MONTH
Piwik Analytics
Zen Photo
Lime Survey
OpenCart
Status.Net
Our existing 1-click-installs have just been upgraded :-
- Drupal V6.22
- Drupal 7 V7.4
- WordPress V3.2.1
- Website Search V1.6
- Crafty Syntax Live V3.1.2
- CMS Made Simple V1.9.4.2
- Elgg V1.7.10
- Geeklog Weblog V1.8.0
- MediaWiki V1.17.0
- phpBB3 Forum V3.0.9
- AWStats Statistics V7.0
- Roundcube Webmail V0.5.3
- SugarCRM V6.2.1
- Typo3 V4.5.3
- Tracewatch V0.353