Open Source Commerce
osCommerce is a free 1-click install software solution that will allow you to sell your products on-line using the brochure - shopping cart - check out system familiar to on-line shoppers the word over.
Although the software is free, its very reliable and has an ever growing community of a quarter of a million people who use it, monitor it and develop for it.
At present there are 12,700 live shops on-line using osCommerce. Have a look here
There are also 6,700 add-inswith which to enhance your shop, security or user experience. Have a look here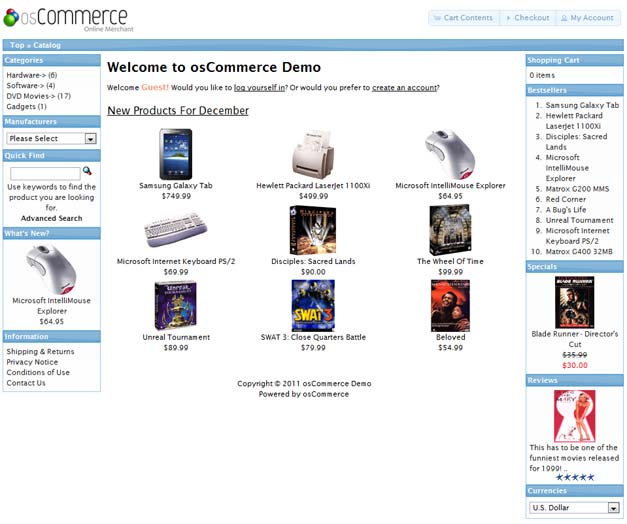 Above - What osCommerce looks like. Just replace the osCommerce logo with your own and you are good to go setting up your new shop.
ADDITIONS THIS MONTH
Piwik Analytics
Zen Photo
Lime Survey
OpenCart
Status.Net
Our existing 1-click-installs have just been upgraded :-
- Drupal V6.22
- Drupal 7 V7.4
- WordPress V3.2.1
- Website Search V1.6
- Crafty Syntax Live V3.1.2
- CMS Made Simple V1.9.4.2
- Elgg V1.7.10
- Geeklog Weblog V1.8.0
- MediaWiki V1.17.0
- phpBB3 Forum V3.0.9
- AWStats Statistics V7.0
- Roundcube Webmail V0.5.3
- SugarCRM V6.2.1
- Typo3 V4.5.3
- Tracewatch V0.353